Relaxation Suites Sensory Suites Experiences INSPIRED BY 1001 NIGHTS
Get transported to distant countries, to ancient cultures where the body and the soul come together. Each suite is decorated and set in each culture, equipped with spacious massage tables, bathrooms, exotic aromas, showers, saunas, and everything you need to disconnect from the world, designed to enjoy the intimacy of a private suite with that special person.

The sensory suites will allow you to discover the world of spa through the history of baths, stimulating your five senses.
RELAX IN OUR Sensory Suites
Rasul Ottoman Suite
Enter this mysterious suite inspired by One Thousand and One Nights, which transports us to a time of fantastic tales, of sultans, princesses, geniuses, and treasures.

Stimulate your senses with the scent of Persian jasmine, the touch of a relaxing massage, a golden bath and Ottoman aromas. Let yourself be pampered by our therapists with a mud therapy wrap in the private Turkish sauna (Hammam).
Tatami Suite - Japan
This suite is inspired by authentic Japanese Tatami, a mat that serves as a floor covering for traditional homes. We perform a 70-minute Thai massage over the tatami.

Techniques and therapies that will bring you closer to the Far East, its ancestors, sounds of gongs, kins or Dan Baus.
Ayurveda Suite - India
Ayurveda, "the science of life", is a legendary system of medicine from the magical lands of India.

In this Suite, you can stimulate your senses with a massage of bags of basmati rice with spices, wild herbs and nutmeg, while a warm medicinal oil caresses your forehead. Savour infusions of aromatic herbs from this mystical country.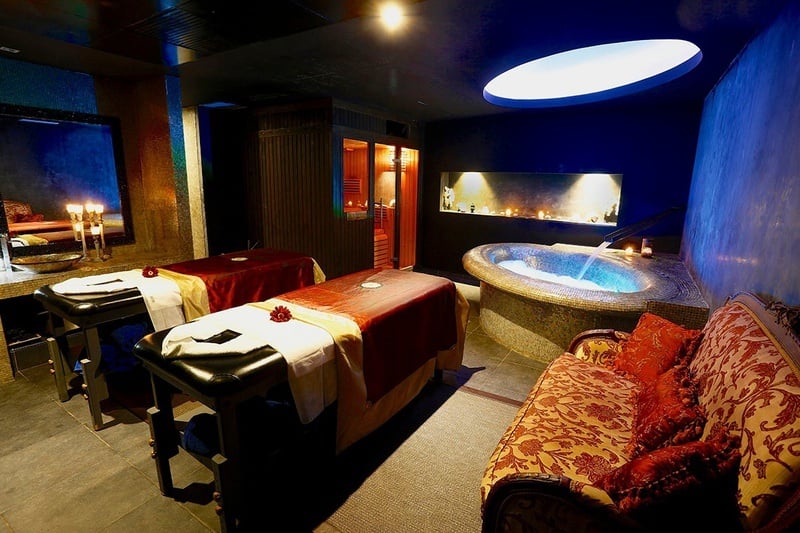 Banyan Suite - Aphrodite's Pearls
The Banyan tree is the magic tree where legend has it, the Buddha was found sitting. The belief is that its roots never stopped growing inside the deep earth, making the Banyan the tree of eternity.

Eternal love and beauty are also attributes of pearls. Discover its great power from concentrates, wraps, and peelings with micronized pearls, a medicinal foam massage and feel the heat and regeneration in the private infra red sauna and chromotherapy.
Caribbean Suite
The Colors Suite is our most exotic suite with flavours and colours brought from the Caribbean.

Detoxifying, relaxing or energizing treatments, versatile therapies to revive and regenerate. Experience the power of nature with a bamboo cane massage or cleanse your body with a coffee peeling or fruit pulp wrap.