Parasailing Salou Package
Enjoy spectacular views sailing and flying in a parachute.
If you are one of those who like adrenaline, parasailing is your nautical activity par excellence.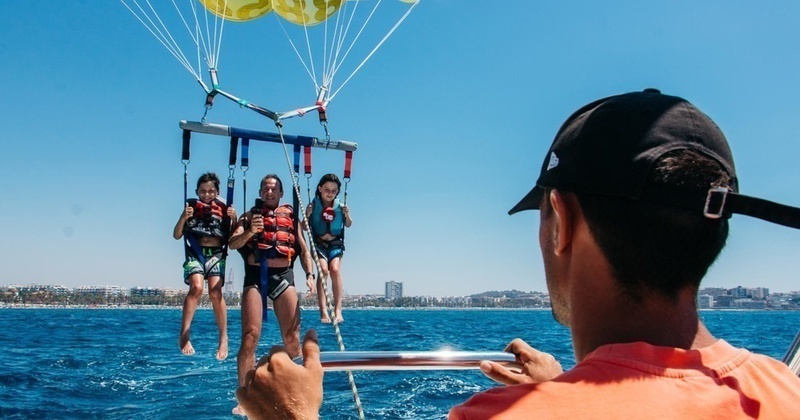 Alójate en Gran Palas Experience y disfruta de las mejores experiencias. Si eres de los que les gusta la adrenalina, el parasailing es tu actividad náutica por excelencia. Disfruta de unas espectaculares vistas navegando y volando en un paracaídas.
Tus pies se alejan de la superficie del mar y un cosquilleo recorre tu cuerpo. En pocos segundos tendrás ante tus ojos, una perspectiva única en nuestro litoral, la misma que tiene una gaviota que sobrevuela nuestras playas. Esto es el parasailing.
Recorre nuestra costa desde un paracaídas arrastrado por una lancha. Subirás hasta una altura de unos 50 metros por encima del mar: una experiencia que no te dejará indiferente.
Requisitos:
-Traje de baño
-Mínimo 5 años ( acompañado de adulto)
-Máximo 3 persona por turno
-Peso máximo 160kg (para parasailings de 2 y 3 personas)
Duración:
-15 min
Que incluye:
-Estancia en habitación y pensión elegida
-Acceso ilimitado al spa del hotel
-Viaje en Parasailing de 15 minutos en el aire para 1, 2 o 3 personas
-Chalecos salvavidas
-Explicación de normas de seguridad
*Indicar día y hora cuando se quiere realizar la actividad
*Traslado al sitio de la actividad con transporte propio


Book here